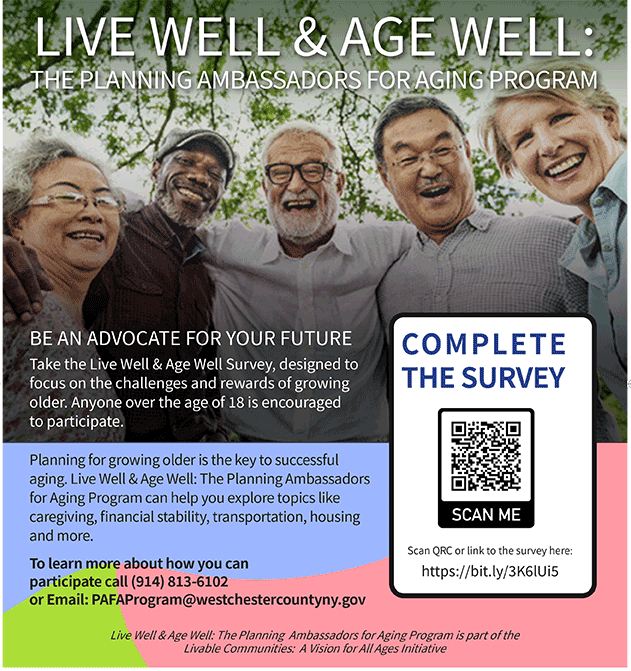 Live Well & Age Well: The Planning Ambassadors for Aging Program can help you explore topics like caregiving, financial stability, transportation, housing, and more.
This is developed by the Westchester County Department of Senior Programs and Services, and the Westchester Public/Private Partnership for Aging Services, the Live Well & Age Well: The Planning Ambassadors for Aging Program is designed to help residents plan for a successful quality of life in the future. Fordham University's Ravazzin Center on Aging has created a survey that will help you start thinking about the later years. The survey covers a variety of topics, including long term care, caregiving, technology, transportation, housing, nutrition and more.
ABOUT THE SURVEY
You must be 18 years or older to participate in the voluntary anonymous survey, which should take no more than 20 minutes to complete.
Participants may include:
Older adults seeking to improve their current quality of life
Multigenerational individuals concerned about their future
Caregivers who are concerned about the future of their loved one(s)
The data will be used to plan for needed Senior Programs and Services in Westchester County. We have a goal of capturing input from at least 3,000 multigenerational residents, and our success depends largely on your assistance.
For more information about Live Well & Age Well: The Planning Ambassador for Aging Program, call 914-813-6102 or email .
Live Well & Age Well: The Planning Ambassadors for Aging Resource Guide has vital information for planning for your aging future