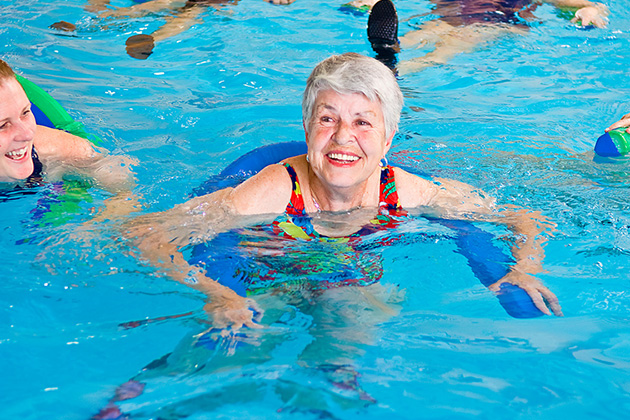 Westchester County senior citizens should mark their calendars and register for the annual Pool Party and Barbecue set for Tuesday, June 19, from 10 a.m. to 3 p.m., at Saxon Woods Pool in White Plains. View the flier. The rain date is Wednesday, June 20.
There's no better way to spend a summer day than relaxing with family and friends while enjoying a barbeque at one of the county's beautiful pools.
Sponsored by Westchester County Parks and the county's Department of Senior Programs and Services, the pool party is open to Westchester County residents age 60 and over only.
Since the pool will not be officially open for the season yet, seniors will have the pool for their exclusive use. Live music will be provided by Total Soul. Other activities include aqua class with Silver Sneakers, tai chi, mini golf and shuffleboard, all free of charge.
Order lunch in advance
From 11 a.m. to noon,BBQ chicken sandwich, tossed salad, potato salad, juice and dessert will be available.
Participants are welcome to bring any additional non-alcoholic beverages. Outside meals are not permitted.
Seating at Saxon Woods Pool is limited; participants are encouraged to bring chairs for seating.
Admission and parking for the event are free; Park Passes are not required for this program.
Suggested lunch contribution is $4. Deadline for placing lunch orders is Friday, June 8. To order, call the Department of Senior Programs and Services at (914) 813-6380 or (914) 813-6423. Make checks payable to "WCDSPS" and send by US mail to:
Pool Party
Westchester County Department of Senior Programs and Services;
9 South First Ave., 10th Fl.
Mount Vernon, NY 10550.
Saxon Woods Pool is located at 1800 Mamaroneck Ave., White Plains. For more information about the event, call (914) 231-4500 or (914) 813-6300.